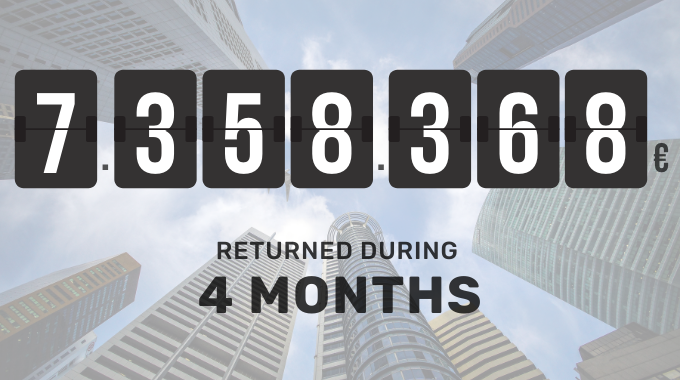 From April to July 2020 our promoters have returned to the investors of the platform more than 7 million euros, as capital and interests, generated by the projects financed through the platform.
In particular:
5,821,709.37 euros of capital corresponding to 19 projects;
966,152.42 euros in interest;
945,276.8 euros of partial returns: Princesa 61, Gran Alacant, Alcalá, Le Margarite, Valle Romano and Mercado Nuevo;
113,984.86 euros of capital generated by the sale of property: Maldonado and Reina.
10,522.76 euros of promotions.
The 19 projects correspond to 9 from Spain: (Príncipe de Vergara 91, Ilex, Malvarrosa, Royal Golf Mijas, Cala Beach, Maldonado, Mercado Nuevo, Benahavís and Único) 8 from Italy: (Certosa, Il Faro, Brozzi, Breda, Donadoni, Poggio del Sole, Campani, Le Margherite II) and 2 from Portugal: (Barrio Azul and Loureiro Villas).
The capital invested in the platform since the beginning of the activity in 2015 exceeds 117 million euros and the total amount returned by the promoters exceeds 48 million euros, which represents 42% of the total invested (117 million euros) in the 292 financing projects developed to date in Spain, Italy, Portugal and Poland (Real Estate, Corporate and Green).