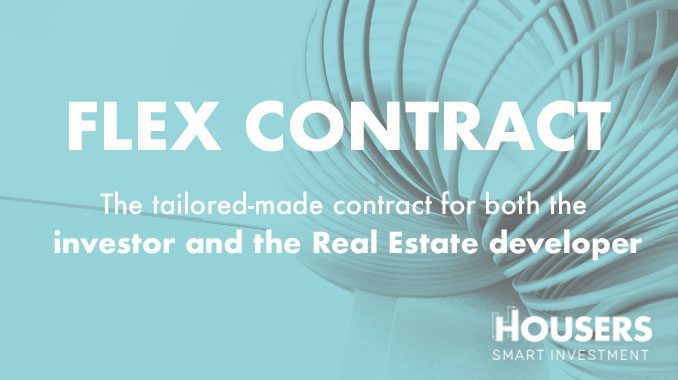 At Housers we always strive to deliver the best-in-class experience to our investors when they invest in our Real Estate projects. That's why we have launched a new type of contract: the Flex Contract.
The Flex Contracts are contracts that only apply to development loan opportunities, specifically for the investment as well as promotion modality.
Keep reading and you will find out the main characteristics of these new contracts.
What are the Flex Contracts?
The Flex Contract has a duration of x months that can be expanded up to 6 months more. These contracts will be available in some projects that will be published on the platform, starting from the 1st of July 2019.
The Flex type of contract has been created in order to give more flexibility to those projects that can risk being subjected to delays, mostly due to reasons that don't directly depend from the project developer. As a matter of fact, it can happen that Real Estate developers may need to expand their contracts. This is due to delays in the licenses' assignation from the City Councils or to delays in the construction for reasons that are not directly connected to the developer.
Therefore, the Flex contracts give more flexibility to project developers, enabling them to ask for an additional period of 6 months. However, the contract's extension has a benefit for the investor as well: when a project is prolonged, the investors will benefit from an increase in their yields. In addition, the funds will be paid 6 months later compared to when they had to be paid originally.
How can the contract's extension be activated?
The extension's option will be decided by the project developer who always has to communicate it to Housers at least 30 days before the loan expires. It cannot be divided into many tranches and it can only be requested if the developer has returned every monthly interest before the expiration of the loan.
If the developer decides to extend the contract, the project's investors will benefit from an increase in their annual yield up to a maximum of +1,99 percentage points. Therefore, during the 6 months extension, your investment will be more profitable than in the previous 12 months.
If the capital is not given back once the final expiration of the loan arrives, investors will accrue interests on arrears of more than 2% compared to the total interest of the operation. The new interest will take into account the annual ordinary interest applied during the extension of the contract, the one applied before the extension, and the period of application of any interests.
In this video, our CEO, Juan A. Balcázar, explains you well how this new type of contracts works.