According to the latest data, published by the Statistical Office Community, Eurostat, the Housing Price Index in Spain has experienced an annual rise of 6.3%. This is the highest rise since the third quarter of 2007. The interannual increase of 4.3% in the last quarter.
The Spanish property market accumulated eight consecutive quarters of annual housing price increases. By comparing these results with the previous quarter, the housing price index in Spain has experienced a quarterly increase with 1.4%. This is the highest quarterly increase in housing prices since the second quarter last year, when it rose 4.1%
The price of housing in Europe experienced an increase of 4%. Furthermore, the housing market in the entire eurozone experienced in the first quarter of 2016 an annual increase of 3%, which means the highest rise since 2008. By analyzing the quarterly increase, housing rose 0.4% as opposed to the 0.1% in the previous quarter.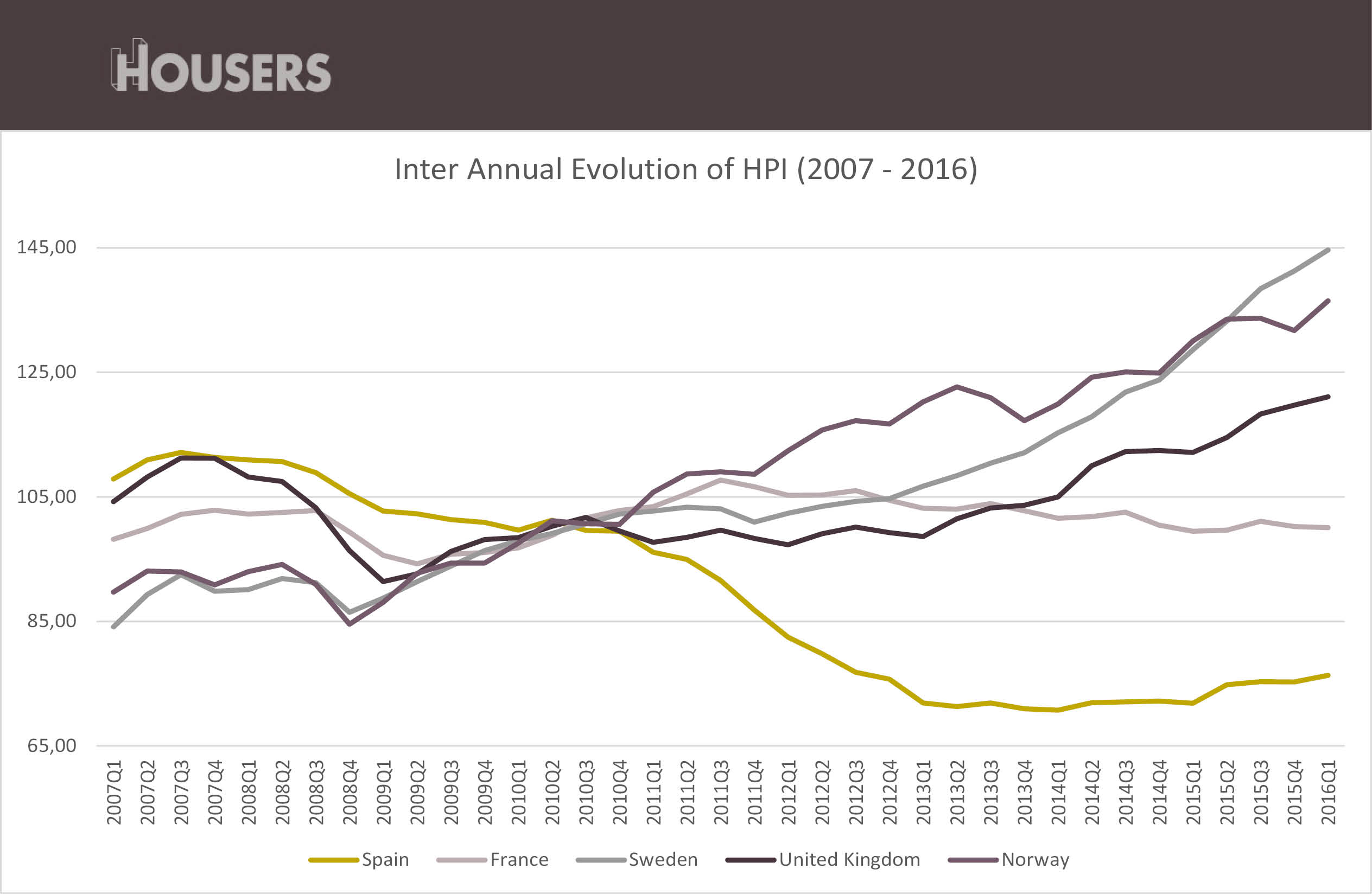 If we take a look at the following countries presented in this graph, we can see the different evolutions of the housing price index between them from the first quarter of 2007 to the first quarter of 2016. As observed, France's evolution are relatively flat and unchanged while Sweden, Norway and the UK have had an extensive gradual increase.
Lastly, Spain has had an extensive decline of its housing price index, and has since the first quarter of 2014 had a stagnation phase before initiating its recovery.
This reconfirms that the property market in Spain is recovering. Now with Housers everybody can participate in this momentum. For as little as 50€ or as much as you want.
Check our opportunities page to see the current projects open to funding and don't miss this opportunity.
For more information about the housing price index evolution in Spain, download our Housers report for the second quarter of 2016, or visit eurostat via the provided link at the bottom of this post.
Regards,
Team Housers