Valencia, in the top 4 cities where to invest in Spain
Valencia, together with Catalonia, Madrid, and the Balearic Islands, is the Autonomous Community that has registered the highest number of property transactions in Spain in 2016. In fact, these 4 together accumulate 48,9% of property purchase in the country last year.
In the last quarter of 2016 the city  Valencia  itself registered 8.300 transaction operations increasing the high numbers of the first two quarters. Housers estimates that this number will continue to rise in the first quarter of 2017, reaching 8900 operations.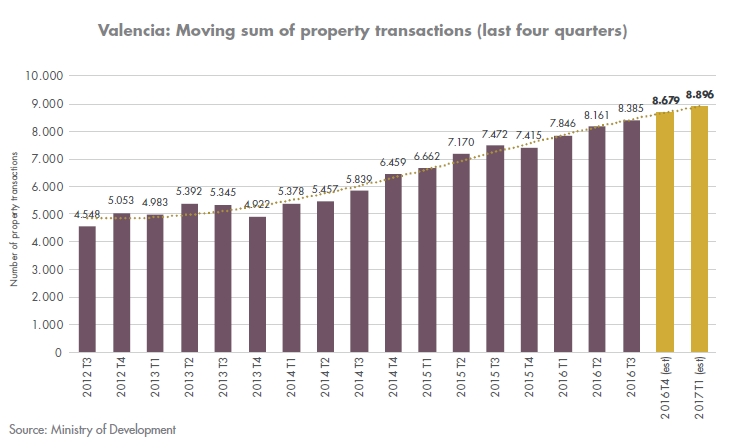 The Valencian capital has recovered already an 8% since 2007, 4,3% during last year. Experts say that this recovery will continue, and the value growth will be even higher during at least the next couple of years. The sale price in the city is now above 1,500€/m2 and the estimation is that it will reach 1540€/m2 in the first quarter of 2017. On the other hand, the rental price is also rising: in the last quarter of 2016 the rental price reached  a new high of 7.5€/m2.. Estimation is that this will continue rising, reaching 8€/m2 in the first quarter of 2017 .
"Rental yields reached 10,65%in the last quarter of 2016"

In the fourth quarter, rental yields reached 10,65%,  higher than the Housers' estimation in our previous report (10,2%). The estimation is that in the first quarter of 2017 could increase to 11%.
Today Housers is launching a new opportunity in Valencia, an apartment in the heart of the city that will be fully renovated, rented, and sold in 36 months, when it is expected to achieve the target market price. Take a look at the opportunity to learn more.
Later this week Housers will be releasing our report with the forecasts for 2017. On it you will be able to see not only the estimations for Valencia, but also Barcelona, Madrid and Palma de Mallorca, the main cities where Housers operates at the moment.