2016 is the first year in which foreign investment is higher than Spanish investment.
In the first three quarters of this year 6.400 million of Euros were invested in real estate. Most of these investments were made by foreigners according to CBRE consulting, something that changes completely the tendency of the market after the housing bubble.
There are several reasons why this is happening:
Reactivation of the market
Spain is recovering from the Crisis
The Brexit that is causing fear to invest in the UK
The price increase registered in countries such as France, Germany and the UK.
In the first two quarters of this year, foreign buyers spent 2.217 million of Euros in direct property, which makes Spain the 2nd country in Europe with the most international participation in the real estate market. In fact, experts say that these numbers are low when compared to the potential demand that Spain has internationally.
The favourite type of property to invest in Spain  are offices and big commercial properties, especially when located in the centre of large cities. This segment has been the principal part of the foreign investment, representing the 44% of the total capital invested in the real estate market in Spain. The main reason is that when it comes to this type of property, Spain offers a much better yield than most of the European countries.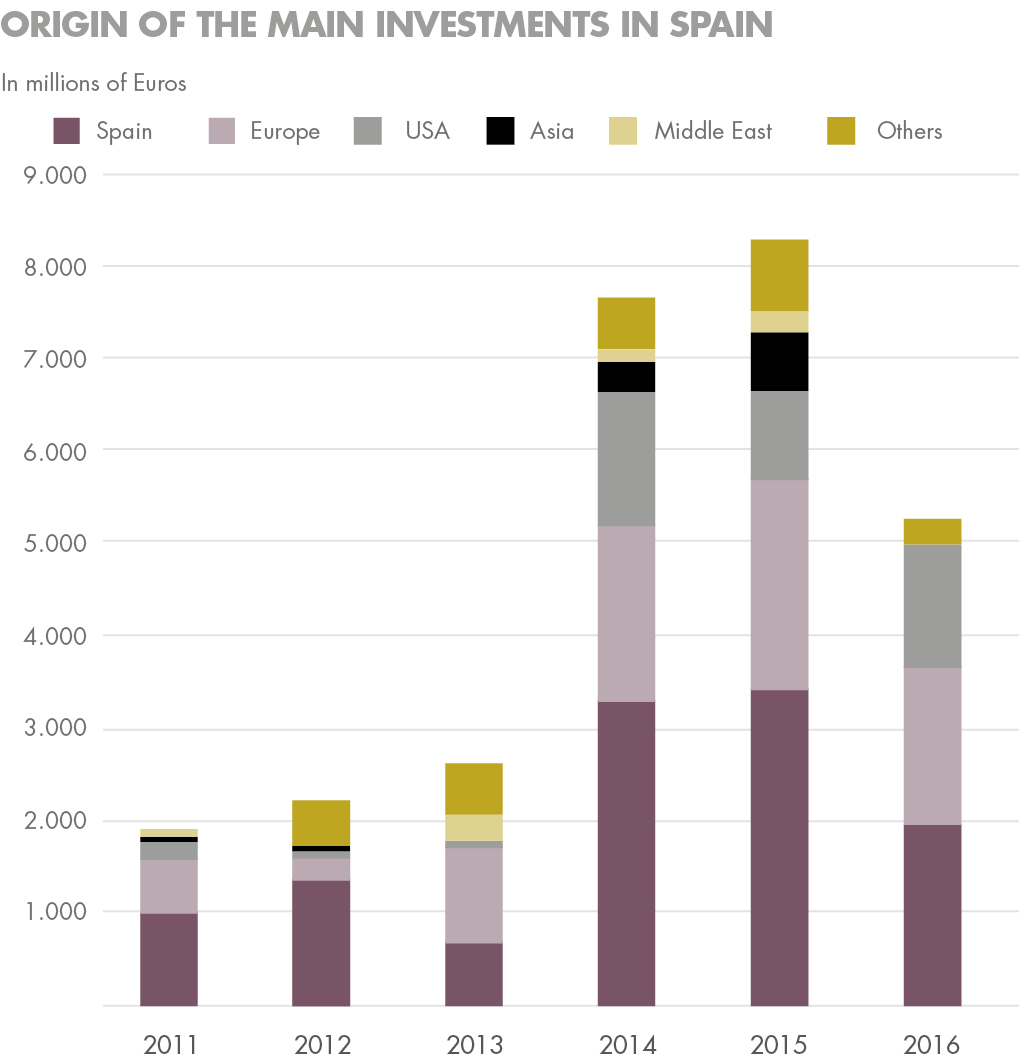 The Americans have done a macro operation with the "Empire project" (4.500 residential properties) bought from Banco Sabadell by 600 million of Euros.  Most of the investments made by  North American investors areconcentrated in Madrid and Barcelona.
Big European funds have also started to buy property in Spain such as the Swiss, British and German. They seek security in their purchase. The example of one of the largest investments  is the Deutsche bank that has bought the shopping centre "Diagonal Mar".
On a lesser scale, but also gaining importance are the Asian and Middle Eastern investors. For example, the Israeli fund MDSR that in the last few months have acquired five shopping centres in Spain. The Imperator group have bought the gigantic complex of the "Four Towers of Madrid".
All these data collected by the Research centre of Savills Consulting, proof that Spanish real estate market is not only recovering, but also on its way to become one of the biggest real estate centres in Europe, on the radar  of most of the worlds' big investors .
Housers allows people from all over the world to invest in the promising Spanish real estate market. From only 50€ and in easy and quick steps, anyone can diversify their portfolio investing in different types of property with Housers. Click here to see available opportunities.