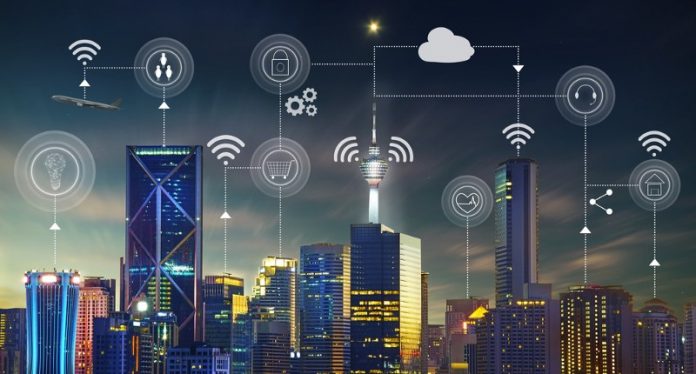 Cities are currently home to just over half of the world's population, and according to the UN, this number is expected to increase to 68% by the year 2050 with urban areas set to receive another 2.5 billion residents.Urbanization is headed into overdrive with the question on everyone's minds being: how sustainable is this accelerated growth?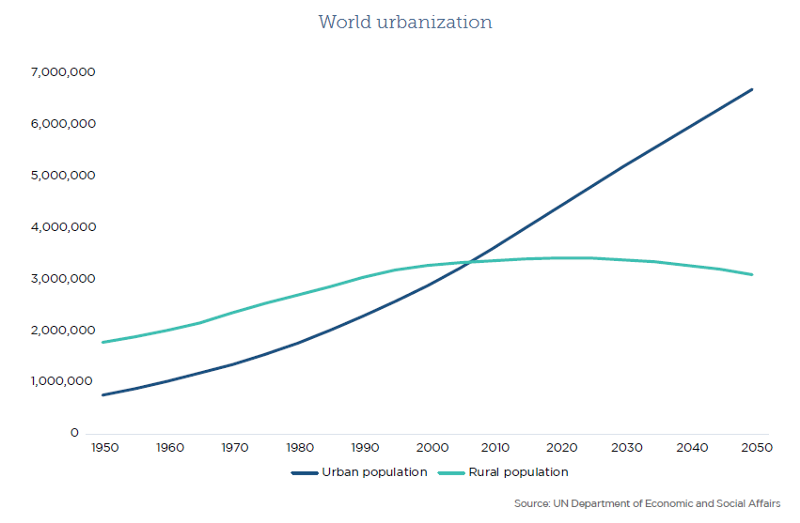 World urbanization trend courtesy of the United Nations Department of Economic and Social Affairs
When questioning how cities around the world will be able to handle this surge in population growth, the first solution that comes to mind is more likely than not technology. Technology has set the path for economic growth in every era since the Industrial Revolution. The future of not only our cities, but of our greater economy is undoubtedly tied to technology. As population growth surges in urban areas around the world, cities inevitably face increasing infrastructure needs and demands to deliver a better quality of life
The term "smart city" is a hot topic these days. Techopedia has defined a "smart city" as "a designation given to a city that incorporates information and communication technologies (ICT) to enhance the quality and performance of urban services such as energy, transportation and utilities in order to reduce resource consumption, wastage and overall costs." Simply put, the goal of a smart city is to improve the quality of life for citizens via technology.
There are two critical technologies at the source of smart cities:
Internet of Things (IoT): Acomputing concept that describes the idea of everyday physical objects being connected to the internet and being able to identify themselves to other devices (Techopedia).
Big Data: Extremely large data sets that may be analyzed computationally to reveal patterns, trends, and associations, especially relating to human behavior and interactions.
With IoT and Big Data at the source, a smart city makes our daily lives easier by creating greater efficiencies in the environment around us.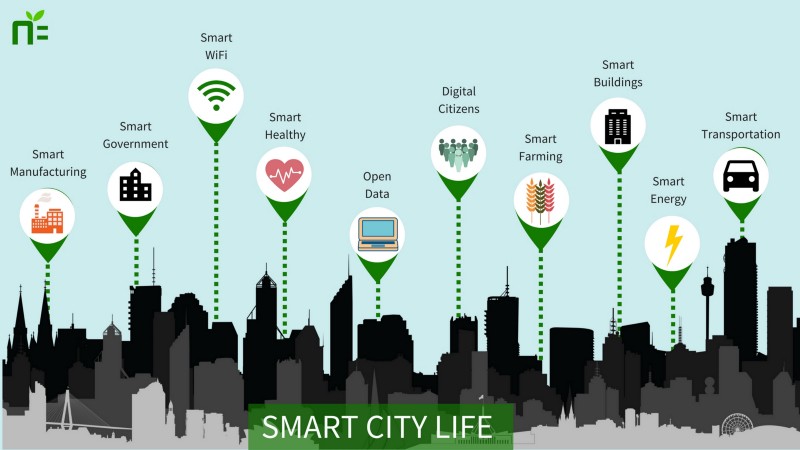 Just another buzzword?
Is "smart city" just another trendy buzzword? Could "smart cities" be the answer to solving the difficulties that accelerated urbanization is bringing? And furthermore, could smart city technology be the key to advancing the world to the next stage?
As urbanization is increasing, new technologies are simultaneously lessening the strain on resources by transforming urban environments in a new and meaningful way. It may be a buzzword, but new technologies are turning this buzzword into a reality every single day. New smart city technologies are helping cities to maximize their resources and increase efficiencies in all facets of urban life. Ultimately these increased efficiencies accumulate to save everyone a whole lot of time and money.
Having a business that plays a role in these technologies is growing more lucrative, as global spending on smart cities is estimated to reach over 34 billion dollars in investment by 2020. The environment is changing, and no matter the sector, all companies need to take a step back and reflect upon how they can adapt their current offerings to a shifting urban landscape.
The first wave of smart city technologies is focused on improving infrastructure. A change in buildings and infrastructure with a focus on more energy efficient buildings is going to have huge impacts on the real estate industry. The real estate industry is not only going to be hugely impacted by the emergence of such technologies, but the real estate industry will be driving much of this transformation.
We can no longer think of real estate and technology as two separate matters, and this intersection between technology and Real Estate has resulted in a phenomenon dubbed as "PropTech". The real estate sector has been relatively slow compared to other sectors when it comes to the adoption speed of new technologies. Traditional property leaders have been hesitant to change their business models and implement new technologies, and have also been apprehensive of PropTech. However, this is all changing, and it's changing fast as the implications of smart cities loom large on the real estate industry.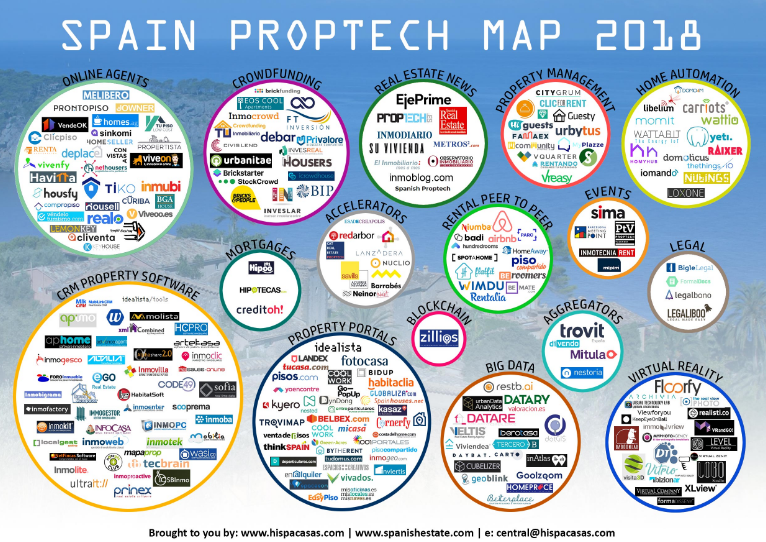 Here you can see a map of the PropTech revolution happening in Spain, with Housers featured in the crowdfunding category. Courtesy of: https://www.spanishestate.com/proptech/
As the technology behind smart cities is shaping the future of nearly all industries, a plethora of new market opportunities are emerging for the PropTech industry. While there has always been a need to invest in physical assets and refurbishment, smart technologies are adding a shift in values.
As smart technologies increasingly become the norm, considering and including these technologies during development will add a price premium to properties and attract more desirable tenants. Furthermore, tenants themselves will start demanding these technologies more, and those property developers that do not keep up with this paradigm shift will be left behind.
Other key trends include land values shifting due to older properties lacking smart features, data changing the way that properties are utilized (real estate shifting from an asset to a service), and the effective use of geo-spatial technology as a source of competitive advantage. Most important of all, innovations stemming from PropTech are also consequently making our cities smarter and connecting our communities via innovative new business models.
Power to the people
Smart technologies have resulted in the booming growth of the sharing economy which has in turn brought about an array of new development models. One such development model that has arisen is real estate crowdfunding. Through a participatory model like crowdfunding, we bring our citizens into the planning of cities, allowing the future of our cities to be more responsive to citizens desires. In crowdfunding, normal people are driving the projects that in the end get financed, as opposed to a select few elite. It turns building new and improved infrastructure a participatory event. PropTech innovations like real estate crowdfunding are going to make the smart cities of tomorrow even smarter.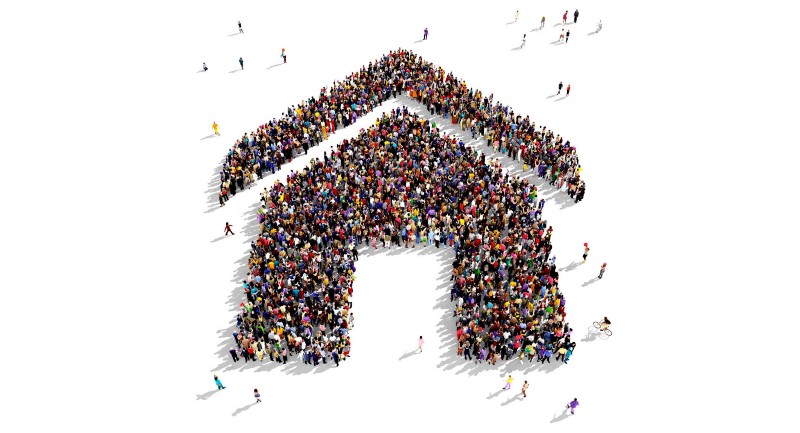 While the property sector has been one of the slowest to embrace technology led innovation, today the multitude of different startups we see emerging in this space exhibits that the private sector is finally ready to embrace technology solutions that deliver efficiencies, optimization, and added value to the property sector.
At Housers we aim to be a part of this revolution by offering individuals an affordable and accessible solution to real estate investing, and project developer easy access to financing. We work to empower individuals to shape the future of the cities they call home. We work with the best property developers to do this in the most sustainable way, giving developers new access to funding that they may not have otherwise achieved without such technology.
Our investors are at the heart of our development projects. Every single project we undertake is driven by people. This is the power and beauty of crowdfunding, and why we love what we do so much. Big Data allows us to constantly evolve our opportunity offerings to the desires and preferences of our investor community.
We make it as simple as possible. Anyone with 50€ can begin investing with Housers, ultimately opening the game of investing up to anyone and to everyone in the community. We look forward to supporting smart city initiatives together with our local governments in the future, and are excited to see how the rise of smart cities leads to even more innovative technology driven business models.
Is your company ready for the rise of smart cities? Housers is. Visit Housers to see how we are using technology to simplify real estate investment for all.