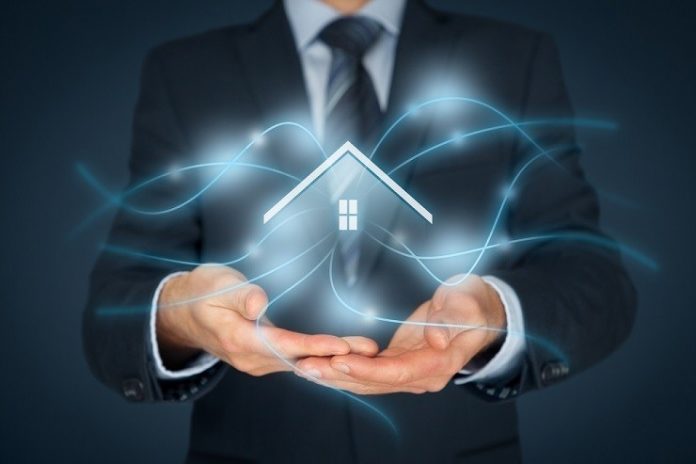 For better or for worse, new technologies are infiltrating almost every facet of our everyday lives. There has been a visible shift from the days when technology served a functional purpose in our lives to today, when our society is utterly dependent on technology. Today, almost all of our everyday customs and habits are closely intertwined with the use of technology.
Technological developments have shaken up nearly every sector, from banking and insurance to fast food, fashion, and, of course, real estate. New technologies are transforming the way markets communicate in unprecedented ways, and as a result, every sector is facing the challenge of how to efficiently and successfully move into a digital future. The real estate sector is no exception.
The real estate market is one of the greatest beneficiaries of digital transformation. New data management systems, together with mathematics, allow us to determine the value of real estate instantaneously. Furthermore, obtaining this information can be done in real time. Digital platforms not only allow users to interact autonomously and directly with the market, but also allow for faster transactions, which ultimately results in a major increase in transactions.
The union of technology and real estate has resulted in a phenomenon that has been dubbed "PropTech" (property technology or real-estate technology). This term refers to companies that seek to add value in the real estate world with through the use of a technological component.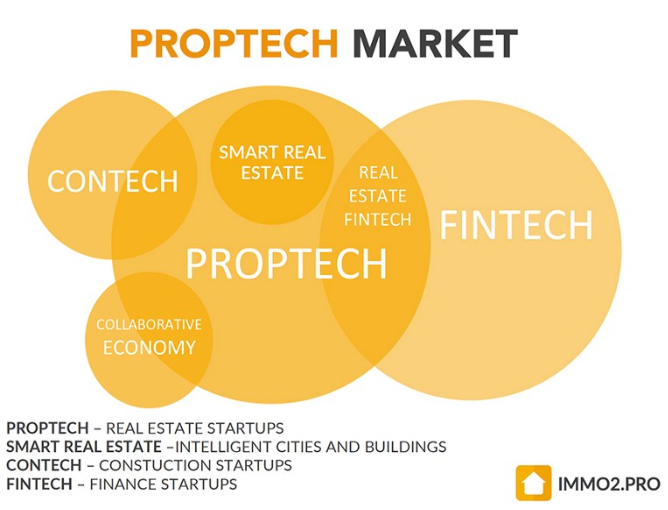 While the PropTech market is still in its infancy, it is full of infinite opportunities. Many young startups are seeking their place in this market. All are vying in an attempt to disrupt some part of the real estate value chain in an effort to improve the way that traditional market players operate. In Spain, more than 160 companies already operate in this PropTech arena, from companies dedicated to Big Data, to others focused on real estate management portals, and of course, companies dedicated to real estate investment, such as Housers.
The real estate sector has been relatively slow compared to other sectors when it comes to the adoption speed of new technologies. Traditional property leaders have been hesitant to change their business models and implement new technologies, and have also been apprehensive of PropTech. However, this is all changing, and it's changing fast.
According to a recent study released by KPMG, attitudes in the corporate real estate world have taken a significant turn in the past 12-18 months, showing that we have finally come to a period of acceptance (always an essential precursor to widespread adoption). KPMG found that 62% of corporate companies now view PropTech as an opportunity.
In the same global study by KPMG, we can see that 92% of respondents believe that technological innovation will impact their business, while 86% of respondents see technological innovation as an opportunity. Overall, property leaders now acknowledge that PropTech is going to be a significant impact on their business.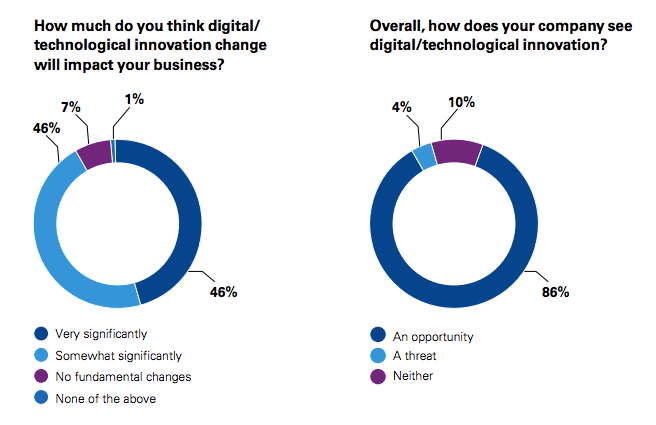 Source: KPMG Bridging the Gap
In correlation with the recent shift in attitudes regarding PropTech, investment in PropTech has gone from 207 million euros to over 2,500 million euros in just five years. When looking at Spain, in just one year, the number of PropTech businesses has gone from 58 to 203. This is an increase of over 250%.
New technologies indicate investment, changes in the market, and of course a change in user habits and preferences. When it comes to real estate investment, PropTech has leveled the playing field between big investors and small investors, radically changing the way in which we invest.
These new technologies are not going anywhere and signify incredible progress in the sector.
Challenges and Opportunities Facing PropTech
According to Según CB Insights, 6 million dollars have been invested in PropTech since 2011. While progress in digital innovation has been relatively slow in the real estate sector, PropTech is beginning to pick up speed fast, as out of this 6 million, 70% has been invested in just the past two years.
With a significant majority of companies in this sector finally seeing the opportunities in PropTech, the question is, how will this sector develop over the next five years? What will the major trends be? Keep reading to find out.
BLOCKCHAIN: While still in its infancy, blockchain is currently having its golden moment. Out of all the emerging technologies, blockchain holds the most power to transform the real estate industry, by revolutionizing the way in which transactions are made. Blockchain is a shared, distributed, and unalterable ledger for recording any type of transaction. The technology eliminates all fraud and counterfeiting, thereby instilling trust among all parties involved. Thus, blockchain is capable of replacing an intermediary in any situation where a trusted third party is necessary. Blockchain will add liquidity to the real estate market and allow real estate transactions to be carried out in a simpler and less regulated system. 
CRYPTOCURRENCY: Everyone is talking about cryptocurrency. Cryptocurrencies are actually largely responsible for popularizing blockchain technology (blockchain being the technology behind cryptocurrencies). Through the use of cryptocurrency, asset transfers are streamlined, making it easier for investors to send cross-border transactions. This has a great impact on the real estate market, as it simplifies the way in which transactions are made with property purchases, thus eliminating many of the intermediaries traditionally necessary in the industry. In Spain, there have already been two cases of selling real estate with bitcoin, the first case being this past January, when Spain's first bitcoin-only property sale took place in Tarragona. The property sold for 40 bitcoins, the equivalent of approximately 550,000 euros.
GEOLOCATION:Geolocation technology is closely related to the real estate sector. Geolocation provides the location of a device to other users, and also associates your location to real-world locations such as shops, restaurants, and events. Essentially, geolocation gives meaningful features to a given location, such as sales values ​​and points of interest. This allows the real estate sector to better analyze the location and sell the properties in a more personalized way. In addition, geolocation allows for a major improvement when it comes to the user experience. Companies have begun to use geolocation in housing search apps, where users are alerted when passing by an available property, as opposed to wasting time wandering their favorite streets in search of 'for sale' or 'for rent' signs. Furthermore, geolocation allows for incredible geo-advertising opportunities such as more targeted geofencing advertisements.
BIG DATA: Big Data is helping the real estate sector to find the wishes, trends, needs, and even the interests of users to better adapt to their distinct profiles and ultimately make better decisions. Making data driven decisions allows companies to improve in the form of refinement. This refinement means that sellers are targeting the right buyers who want to purchase the property (which is not nearly as easy as it sounds). Companies are also using the power of big data to make strategic business moves and adapt their business models. Through better understanding the needs of users and having a much clearer picture of the market, all businesses can better adapt to meet their customers' needs. Additionally, realtors, investors, and buyers, can all make smarter investments through the use of data analysis accurately predicts market trends and risk.
CROWDFUNDING: Last but not least, crowdfunding is one of the leading trends in PropTech, as it allows anyone to become an investor through the easy use of an online platform. Crowdfunding enables access to a market that would otherwise be inaccessible to many. Housers, established in 2015, was the first pan-European investment platform focused on enabling the latest technologies like these for people around the world. As a crowdfunding platform, Housers gives the opportunity to anyone in the world to become an investor in real assets. Crowdfunding is one of the newest technologies that is changing the game in the real estate sector, and step by step, it is democratizing investment and allowing everyone to become part of something revolutionary.
Visit Housers to see how we too are changing the game in real estate investment.