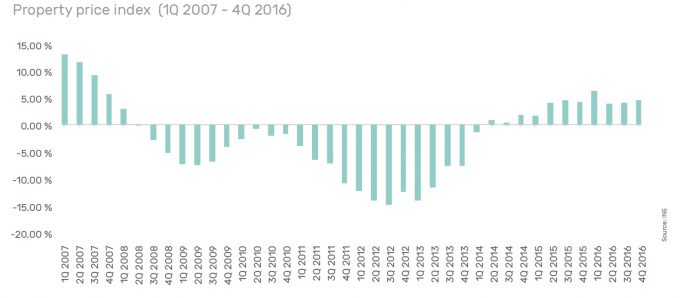 The price of property rose last year in every Spanish Autonomous Community.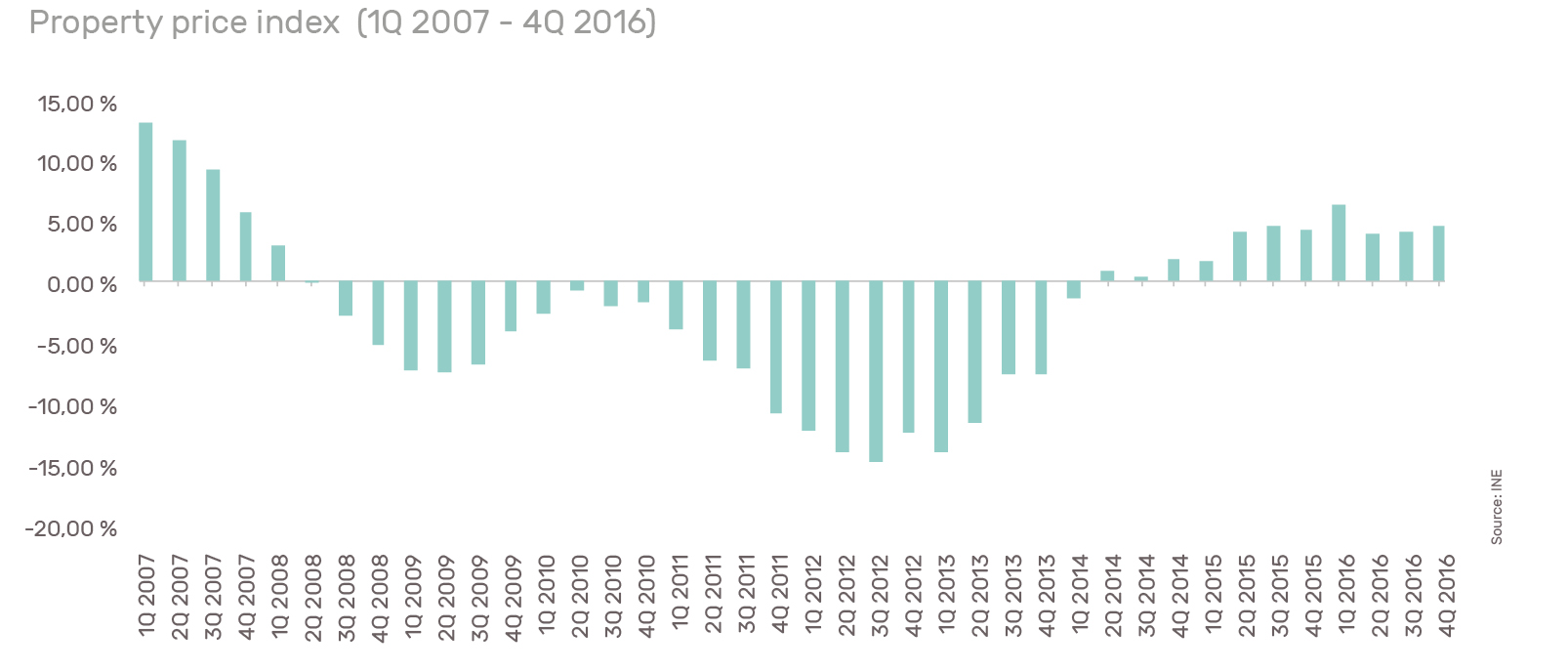 The most profitable sector: the real estate market. The property prices rose by an average of 4.7%. This is the third consecutive year in which the Spanish market experiences rises.
Between 2008 and 2013, the price of property registered annual declines. It was not until 2014 when it started showing positive figures, with an average annual growth of 0.3%, which rose to 3.6% in 2015 and 4.7% now in 2016.
Madrid and Catalonia stand out for being the communities where the prices rose substantially, 9% in Madrid and 7.4% in Catalonia.
Madrid and Catalonia at the top.
All the communities recorded increases in prices, except Castilla La Mancha where prices remained stable. The largest increases occurred in the communities where Housers selected almost all the opportunities: Madrid (9%), Catalonia (7.4%) and the Balearic Islands (5.7%). Meanwhile, the lowest advances were La Rioja (0.3%), Murcia (0.7%) and Castilla y León (0.8%).
The data comes from the National Institute of Statistics (INE), through the information provided by the General Council of Notaries on the basis of the registered properties from which the property transaction prices are obtained, as well as the weights assigned to each set of properties with common characteristics.
This index of property prices (IPV) aims to measure the evolution of the purchase prices of free-priced housing, both new build and used.
Prices continue to rise in 2017.
Following this trend, so far this year, the price of property has rose by 2.2% according to the index of Tinsa (mayor Spanish valuation company).
The valuation company explains that this growth is due to the push experienced by the demand in the Canary Islands and the Balearics, in which the price has risen by 4.4%, and in the large capitals (especially Madrid and Barcelona), with a price increase of 3,5%, motivated largely by the scarcity of new build properties.
The real-estate market, the most profitable sector.
The reality is that the pace of real estate market activity remains firm, as shown by the latest published official data. The sector attracts money from investors from different parts of the world, who find Spanish real-estate market a very attractive alternative.
In addition, Tinsa's report says that there is still room for improvement in prices if you analyze the depreciation experienced since they reached their peak in 2007.
Housers offers investors from all over the world the possibility to invest in Spanish real-estate market, benefiting from our high returns and making the most out of their money.
We always have at least one opportunity available in our website. Take a look and find out why everyone is opting for the Spanish real-estate market.