We don't hear often that Nordic countries like Denmark are going through an economic issue, but due to the types of interest that are being given in Europe, they could be facing a Housing bubble that is about to explode.  The monetary fund has already warned that the fast increase on the prices "should be watched", because of the extremely low interests the prices have arisen way too fast, especially in Copenhagen.
According to Eurostat the private debt of the country beats 135% their GDP. Helge Pedersem, chief economist of Nordea Nordic Investment Funds, says that the assets of the Danish families surpass this number, but those asset's value could decrease: "If the prices of those assets fall, a cocktail could explode."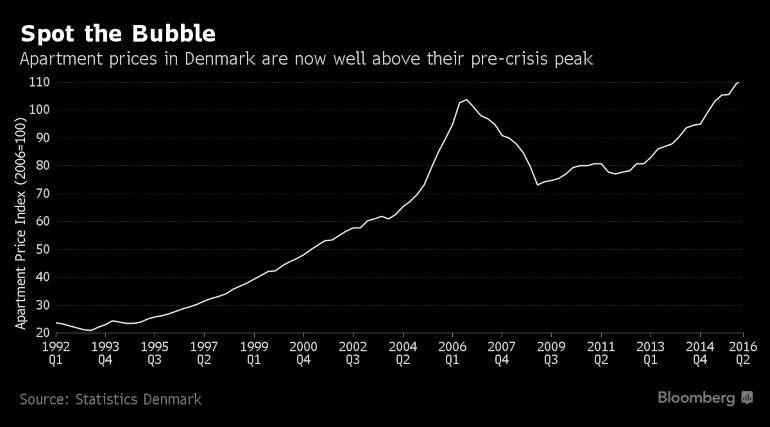 Other Nordic countries that are also fearing the housing bubble are Sweden and Norway. Those have been object of jealousy by many countries of Europe during decades because of their economic growing model. Stockholm's have reached 6350USD/m2, very close to prices of some of the big European metropolis such as London (6750USD/m2).
During 2015, the prices in Sweden increased between 15% and 20%; and 150% in the last decade. Even the International monetary fund has asked the country to slow down in the increase of the price of property. In Norway the growth has been very similar, but the country is starting to realize the danger, toughening the mortgage credits.
Another country where the perfect storm is about to arrive is Germany. With the low type of interest and the increase on the salary, Germans have started to forget their tendency to save up and live under rent, and are buying property like never before. The property price is also increasing, especially in cities like Berlin, Munich, Dusseldorf and Hamburg. The concession of mortgage loans is breaking records and a lot of experts are saying that a Housing bubble is approaching.
The UK is not safe from this either. According to the last Knight Frank's report "Central London Prime Real Estate Prices are to drop by 9% this year". The bubble is not far considering the exuberant property price increase in the country in the past decades. The Brexit have not helped the situation: Investors are scared to invest in the country because the prices have clearly touched ceiling, and the economic future of the country is not clear after the Brexit.
Spain is in a complete different phase of the real estate cycle. The reactivation of the market is imminent and investors are starting to bet for it. After such a big crisis, Spain is starting to recover, from the big cities like Madrid or Barcelona which are already seen by experts as the safe cities to invest nowadays. Housers allows you to invest in the growing Spanish real estate market, diversifying your wallet investing in different properties from only 50€. Check our available opportunities in our website and start making your money profitable: https://goo.gl/Qh01C0