This article will explain the main benefits of using Housers as a long term savings plan. All data used for the development of this simulation originate from independent institutional sources and can be consulted freely.
We have tried to raise the simplest possible scenario. A person decides to start investing €10,000 out of his savings as a long term savings plan. He reinvests all his received earnings without additional contributions for 15 years. We are aware that in some cases, it is not possible to re-engage with a few cents, depending on which instruments and simulation that have been carried out. However, in this hypothesis, we will compare different financial instruments and go specifically into all of their characteristics.
– The sale of a Housers property is held every 5 years (dividends from the sale)
For specific investments through Housers, we have developed two scenarios:
The first scenario is based on current average expected returns on investments of the existing Housers platform, which we will call "Current Housers".
In the second scenario, the net return from the sale of the property and the net rental return are lower than the today's expected average. We will call this "Conservative Housers".
We have chosen to compare investment in real estate with Housers with the following alternative asset classes:
-Traditional real estate investment
-Debt
-Ibex35 (Main index of the Madrid Stock Exchange)
-Pension plans
-Deposits
-Investment funds
We have chosen to not apply the 19% retention of the treasury in order to facilitate the calculation as much as possible.
The sources, which enabled us to obtain historical returns of each financial instrument used in developing this savings plan, can be found below in the footer.
Simulation of 15 years of gross profit earnings for a user with an initial investment of  €10,000
Total receivables at the end of 15th year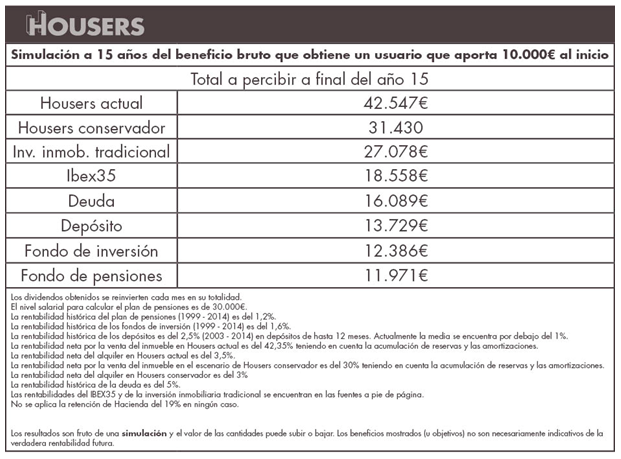 Total after 15 yrs
Current Housers
Conservative Housers
Traditional real estate
Ibex35
Debt
Deposit
Investment Fund
Pension plan
As acknowledged, the profits that are originating from the real estate market are much higher than the rest. Historically, the profitability of real estate investment has been higher than with alternative asset classes.
The two most profitable alternatives in the comparative simulation are the Housers investments. There is a simple explanation to this: our active and continued management of properties. Indeed, the selective choice of properties by our experts as well as our strategy to maximize the benefit for our investors is what makes us substantially different from traditional real estate firms.
The analyzed data in this article originate from proven, institutional and independent sources:
– IBEX 35 returns until 2012 bolsaymercados.es
– IBEX 35 returns from 2013 to 2015 Historical IBEX 35
– Historical returns on deposits
– Profitability of Historic pension plans
– Profitability of investment funds Historical investment funds
– Historical returns on debt
– Sources for calculating returns on traditional investment
– Returns revaluation of housing Ministry of Public Works
– Yields rise in house 2014 Ministry of Public Works
– Estimated rise in house 2015 elmundo
– Rental returns until 2011 Bank of Spain
– Rental yields 2011-2014 Bank of Spain
– 2015 Estimated rental return (* Limited data. It is assumed same as 2014