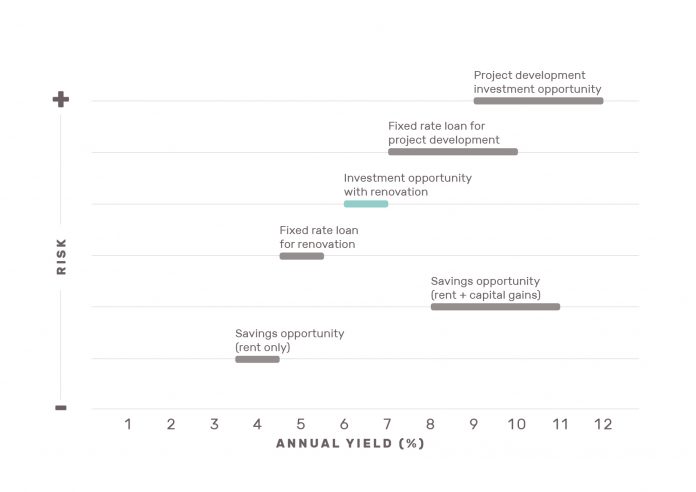 In order to understand our investment opportunities with renovation let's see first how our investment opportunities work:
In these opportunities, the investors fund the development and execution of a project through loans to a project developer. These are opportunities with an estimated length between 6 and 36 months. In this type of opportunities the yields are linked to the return obtained by sale of the asset, by the rent or both. The project developer sets a target sale price and, when this it is reached, the commercialization starts and the property is sold.
With our investment with renovation opportunities you will not earn rental yields, the success of the project is only linked to the sale success. The properties are selected in central areas of rising cities such as Madrid, Barcelona or Milano; in areas with a high demand and low offer, in which modern renovated apartments are hard to find.
3 steps are taken in the development of this properties:
Acquisition
Renovation/Decoration
Commercialization/Sale
Once acquired the renovation is made under the turnkey model, which means there is no risk of deviation. The renovation is made from scratch, creating a full new optimized distribution of the property.
To increase the value of the properties, we also perform a full decoration and a Home-Staging selling strategy that adds an extra touch of style to accelerate the sale and make the property even more appealing to potential buyers. See below an example of one of our properties that was sold using our Home-Staging strategy, that has had tremendous success in previous opportunities:
Project Cruz Verde II
Yield-risk relationship
Each type of opportunity has its yield-risks relationship. As any financial product, the higher the estimated yields the higher the risks. Investment opportunities with renovation are placed in a balanced position in our chart, almost in the middle, which is also why they are one of our investors favourites and are usually funded extremely fast.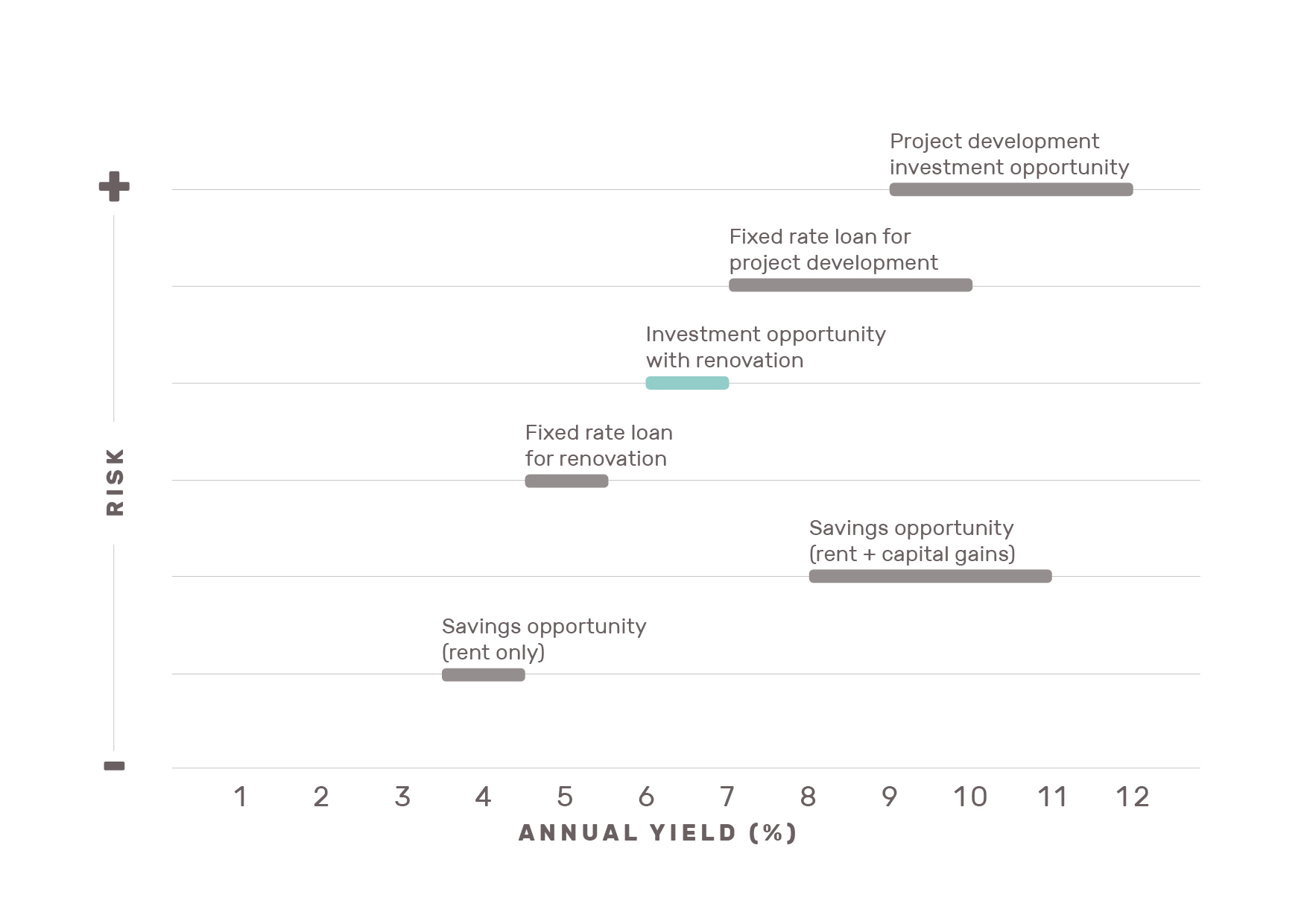 Two investment opportunities with renovation available!
4,5% estimated yield in only 12 months
Great area with high demand and low offer
The renovation and decoration will add value-growth to the property
We have had other properties in the area that have been sold successfully in no time!
Estimated yield of 7,55% in only 12 months!
Located at one of the most popular areas of the whole country, right next to Las Ventas bullring
Previous projects in the same area were fully funded extremely fast
Perfectly connected area which increases the interest at the property
Check them out and get the most out of your money with Housers!