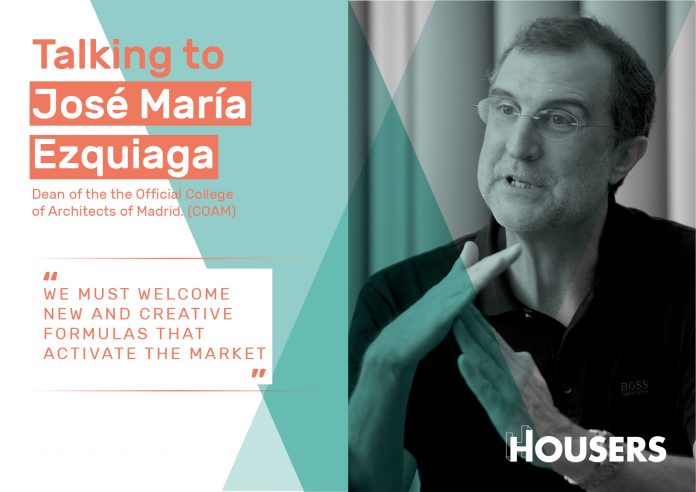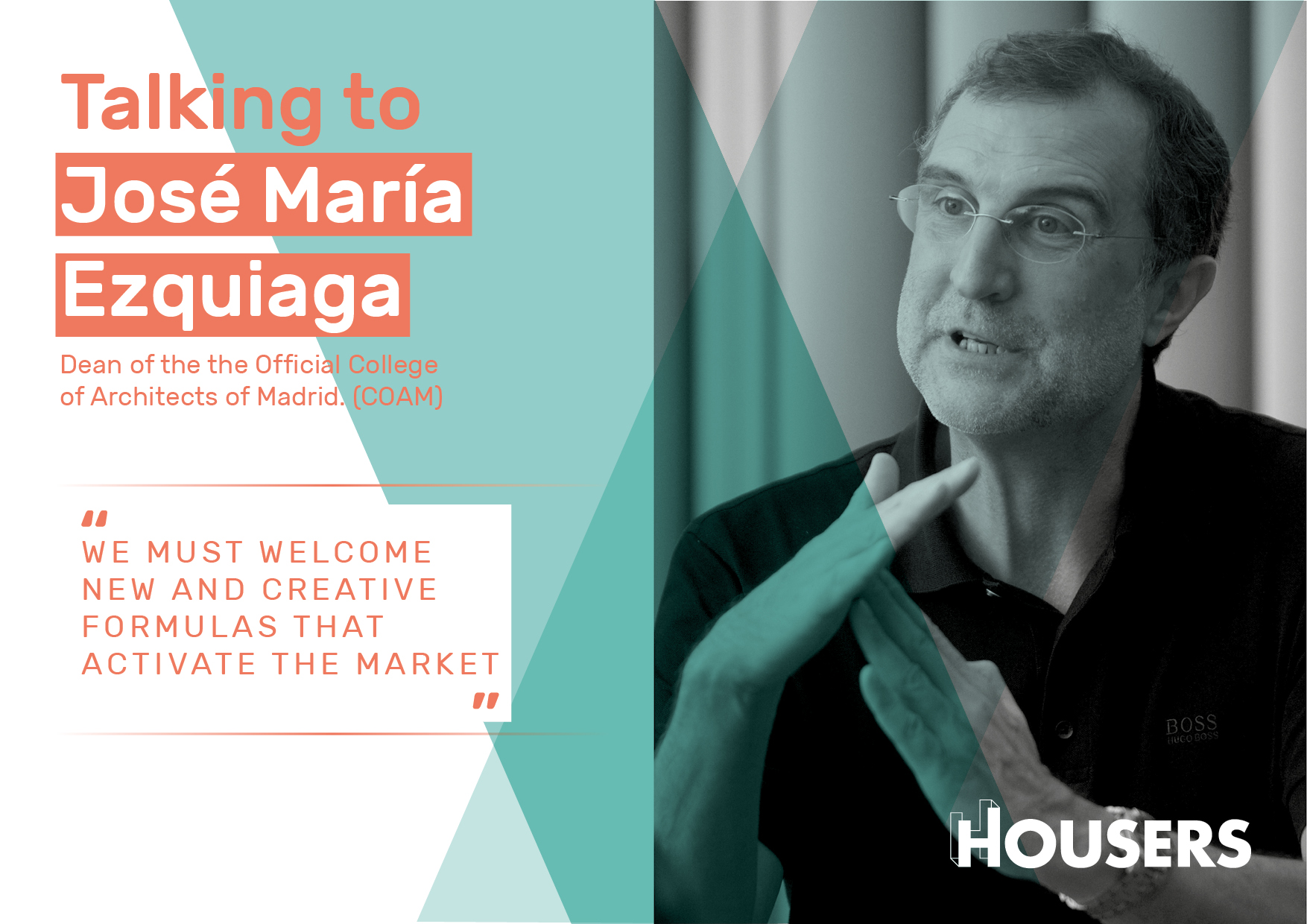 Housers, approaching the world of architecture and relevant people in the sector, interviewed José María Ezquiaga, the chairman of COAM (Association of architects from Madrid)
COAM is the Professional association of Architects from the Community of Madrid (Spain). It represents and defends the professional interests of architects and safeguards the cultural and environmental values of Architecture for the benefit of society.
Architecture's support is crucial for Housers, and this interview is a proof of it.
How important is the rehabilitation of the housing stock in the city centres today?
"Housing stock is aging in Spain, 55% of the buildings were built before 1980, and 21% of them are over 50 years old. It is clear that housing has become an energy sink; especially given that 58% of buildings were built before the first energy efficiency standard, therefore they do not meet any of the required efficiency standards. "
At Housers we are aware of the need to invest in renovation and rehabilitation, in fact, the vast majority of our funded projects have been renovated before renting. In addition there is a high deficit in accessibility with a highly aged population. Surprisingly, renovation in Spain is thirteen points below the European average (41.7%).
The chairman agrees and adds that in "Spain we have significantly reduced the birth rate, so the formation of families who demand new housing is progressively reduced." He points out that "This fact does not mean that new housing is not needed, it is needed, but it is more urgent in the centre of big cities" He adds, "There are areas with significant housing deficits, in Madrid there are still thousands of homes that do not have a bathroom built into the house itself", making it clear that "There is an important task of modernization and, above all, of reaching the minimum standard of habitability."
"The housing stock constructed in the 60s and 70s is very old and urgently needs renovation and recycling (homes without a lift, houses without insulation, thermal conditions, clean energy)"  he explains.
Do you think that an investment system like Housers is a suitable vehicle to carry out these renovation tasks?
My opinion as an expert is that "it is necessary to welcome new and creative formulas that activate the market" and adds that "everything that diversifies the sector will make it more resistant".
Do you think that one day we could finance urban interventions through our funding model?
"People tend to think that crowdfunding deals with very small contributions, but there is no obstacle that limits it. As long as the model succeeds, it can scale up for sure" and points out that "we have to know what we are talking about when we refer to urban interventions."
Thus, the chairman believes that "it would be fantastic if you could approach by this investment model  larger scale urban renewal", where he also believes that "it still has a long journey ahead and very good prospects of investment recovery.
What are the next technological challenges facing the COAM in the future?
As for the challenges faced by professionals in the sector, the opinion of the expert is that "construction is still practically a craft sector, very labour-intensive and low-skilled." He compares it to "the civil work that has a great splendid technological development ", putting as an example the tunnelling machines and the rationalization of all the productive processes.
He also believes that "clean energy production in buildings will be a key point in the upcoming years and therefore we must generate patents and technologies that allow buildings to be productive."
On the other hand the opinion of the expert is that "professionals are facing a revolution in the field…" "A clear example is 3D printing that allows architects to imagine and design things that previously were impossible to be made with the available technologies."
Do you think the BigData tools could be used for city planning?
The opinion of the expert is that "Big Data is especially important in the field of urban planning and financial planning. For example as far as source-destination surveys were the basic tool to know the habits of the inhabitants and mobility was enormously expensive. Now they can be replaced and complemented by the Big Data and it is already being a very important revolution".
Do you think that platforms like Housers can be decisive in the future of real estate investment?
"For sure, we are in a moment of transformation of the market, there are new techniques that open up very interesting possibilities". The chairman believes that "one of the problems of the real-estate market is that the information is incomplete and can be compensated by the application of Big data and the exploitation of the results of initiatives like Housers allowing to know who invest, how much, and  with which references, and all this is certainly very interesting."
We would like to thank José María Ezquiaga for his time and his very important comments and appreciations.
Check our website to see our currently available opportunities.