Today, we are publishing the third statistics report.
If you are interested in seeing previous statistics we have published, visit our statistics section.
Monthly investment repetitions (%)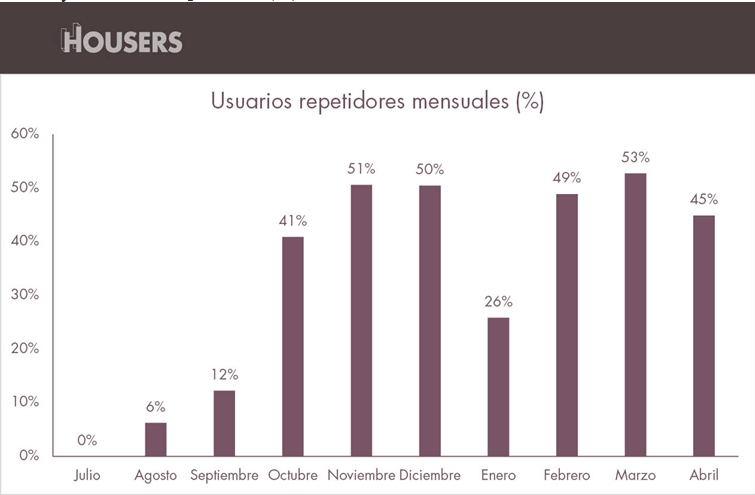 This graph shows the percentage of investors, each month, who had already participated in more than one opportunity. Even though this figure has experienced a slight decline since March, almost 50% are reinvesting through Housers.
Each month, returning Housers investors represent a high percentage of contributors. The investment power for these individuals tends to be higher compared to individuals who invest for the first time with Housers.
Monthly average contribution on a daily basis: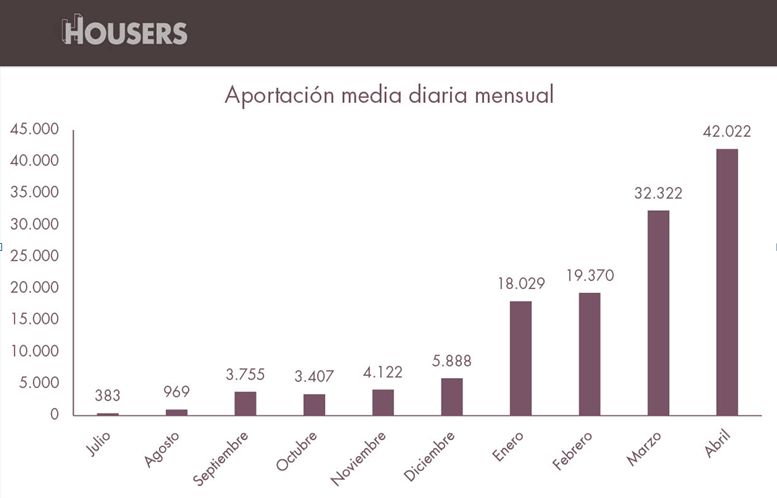 To note from this graph is that the average daily contribution of users, per month, has increased by almost €10,000 from the previous month and it can also be noted that the increase is constant since the initial launch of Housers.
Cumulative users, each month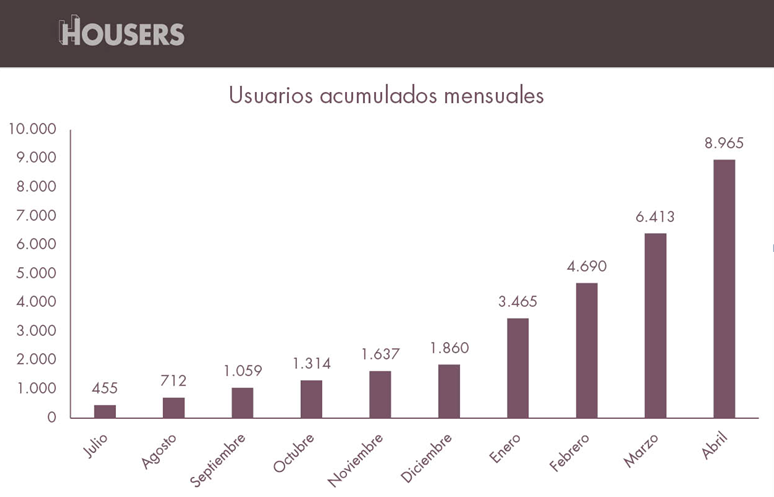 In this graph we report the number of new users that sign up to Housers each month. Here we can acknowledge an increase of 40% compared to previous months. This clearly shows how fast the Housers community has grown.
% of Housers users according to the number of projects in their portfolio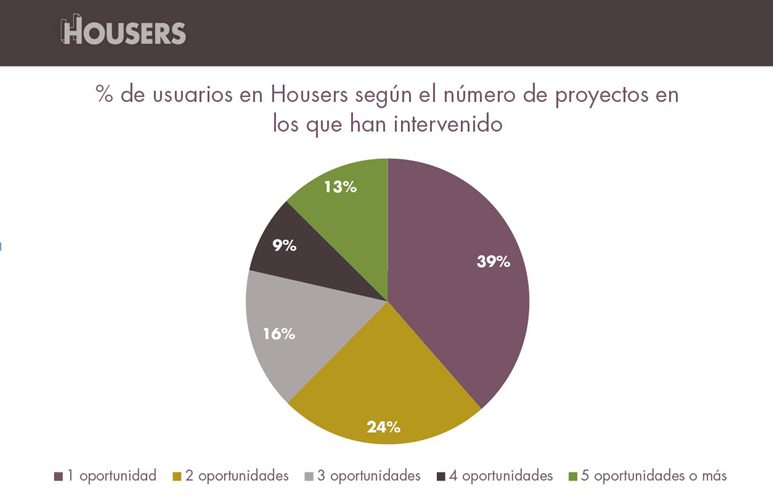 Opportunity 1, 2, 3, 4
April was the month, in which users diversified their real estate portfolios more than ever before.
The percentage of investors who only made one investment has fallen from 43% to 39% while the amount of investors who invested in two or three different projects remains stable.
% of Housers users according to their volume of participation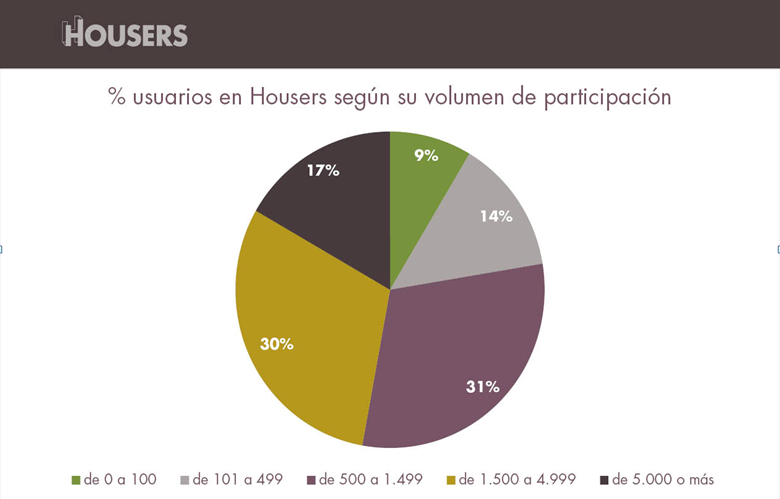 From X to Y
The percentage of users who contributed a minimum of €100 remains stable with respect to previous months. The same trend is notable for investors who spend between €1,500 and €4,999.
More than 60% of all investments range from €500 to €4,999.
Monthly average contribution per user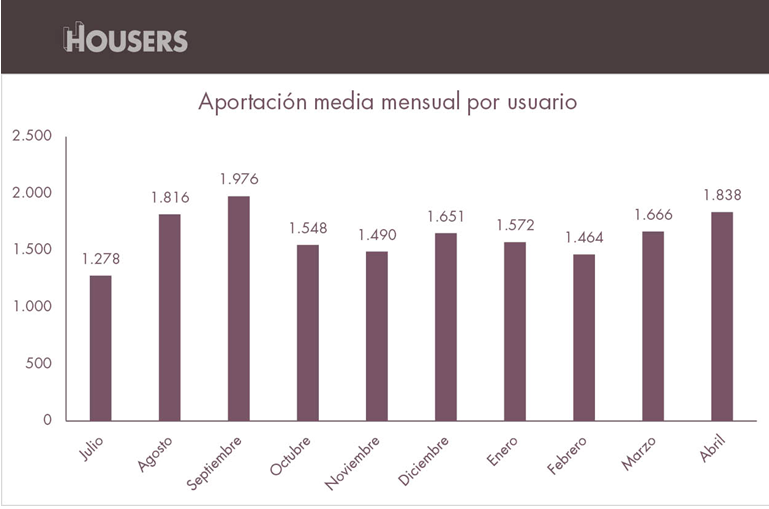 July, August, September, October, November December
In this graph, the data shows the average user spending per month at Housers. As we can see, the average investment per month has had a remarkable growth since the initial launch.
Total participation, N° of Users, Average participation N° of days to complete a project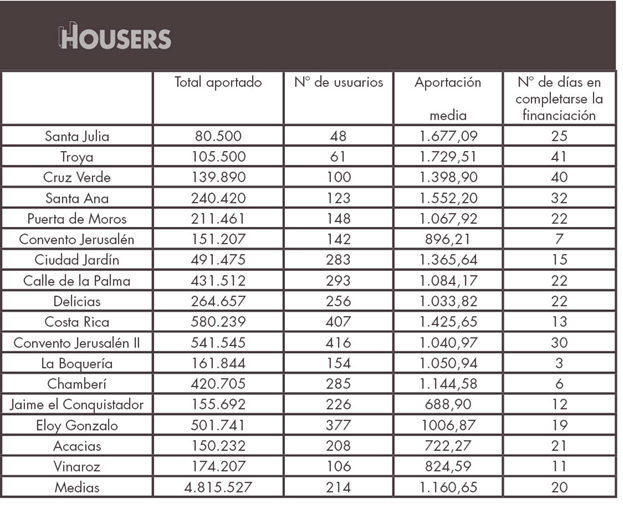 translate "medias" in last row to "total average"
In the last table, we want to share information about our current opportunities and their overall average in the last row. Perhaps the most important aspect of this table is the average number of days it takes to complete a project. With this data, we could approximately estimate how long time it takes to complete a project, depending on how extensive the project is.
Evolution of the ratings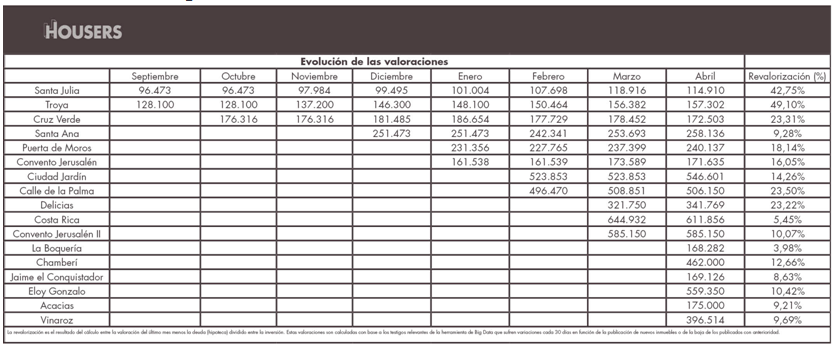 In this table, we can see the outlook of the appreciation of different opportunities that Housers has engaged in since the initial launch and up to April 2016.
We are proud to present you all this information and highly encourage you to share it as well.
The Housers Team