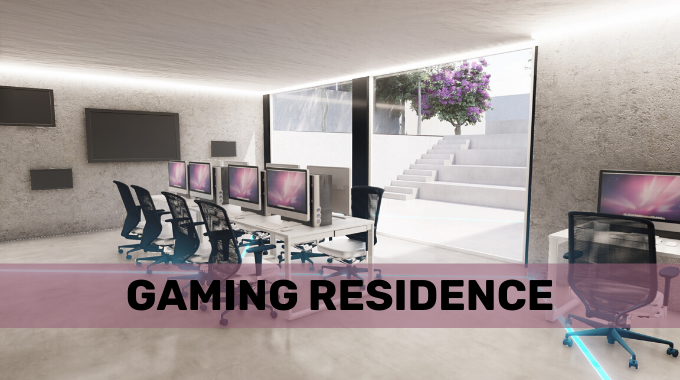 Housers launches a new Corporate project to finance the establishment of the first residence for gamers, located in Madrid, which will accommodate 36 young university students.
It consists of a Gaming Residences S.L. project which will be the first tech residences chain, featuring different agents involved in the electronic sports industry. This disruptive business model combines real estate, technology, sports and education.
This new opportunity is offer in our platform as a participative loan, with an estimated fixed interest rate to investors of 22% within 24 months (11% per year) plus an extra variable interest, whereby users will be able to finance up to 330,000 euros for the refurbishment and promotional actions related to this new concept of residence, located in the district of Moncloa-Aravaca, which is already built and has an area of 3,600 m2.
An opportunity to invest in the eSports sector
This is an optimal investment opportunity for our investors because of its scalable business model, which is presented as a solution for the development of two major growth markets: the university residential market and the eSports industry.
The eSports sector is undoubtedly a growing and profitable market, with an increasing audience and revenue, becoming an industry of constant growth in Spain. For this year, it is foreseen to exceed 1 billion dollars in revenue. Spain currently occupies the eighth position in the world ranking of eSports, which are configured as a sub-sector of the video game market. The turnover generated by eSports in our country is much higher compared to other industries related to the entertainment sector such as film or music.
On the other hand, the student residences have been for a long time one of the big bets for the investors within the real estate sector in Spain. Nowadays, there is a shortage of 400,000 students annually who remain without a residential place.
Our CEO, Juan Antonio Balcázar, explains that "this business project of the Housers Corporate line is a unique investment opportunity, since it combines these two sectors with a high potential and tradition in Spain; on one side the eSports industry, which is growing fast in penetration due to the current state of alarm in many European countries, and on the other, the university residences, a very promising niche market in Spain".