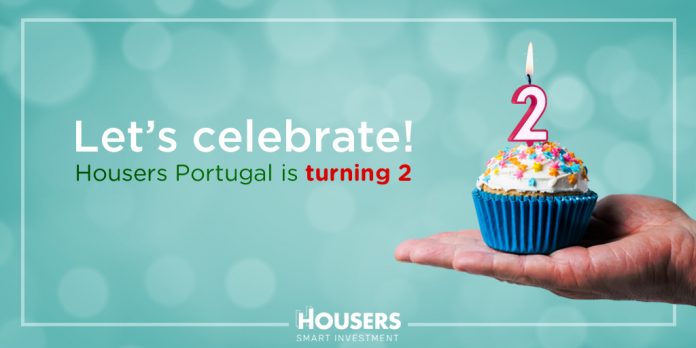 During the month of October we are celebrating in the platform, that we celebrate our second anniversary of Housers Portugal.
Today, thanks to Housers, you can not only invest in real estate projects from very small amounts, but you can also invest in different projects located in Spain, Italy and Portugal. It's a real revolution in the real estate world!
6 million euros financed by Portuguese investors
In October 2017 we opened the doors to the Portuguese market. After two years of activity in the country, our Portuguese community continues growing and is now reaching more than 14.000 users.
With respect to the accumulated investment in the platform from Portugal, investors have already invested more than 6 million euros in real estate projects in Spain, Italy and Portugal. Of the total invested by the Portuguese since October 2017, close to 1.2M euros have been invested in projects located in Portugal.
In addition, in the period from January to October 2019, the Portuguese have financed the developers more than 3,225 million euros, which represents more than 50% of the accumulated investment from Portugal since October 2017.
Increases the funding in Portuguese producto developers
Since the beginning of Housers' activity in Portugal, platform investors have already helped to develop 17 real estate projects located in Portugal, representing an investment of more than 5 million euros.
Regarding to the financed projects in Portugal, the real estate developers have already repaid two of them in advance. Boss Smart City, in Oporto, has concluded with an IRR of 8.68%. Palmela Villas, located 40k from Lisbon, was completed with an IRR of 9.50%. In both cases, the IRR achieved was higher than the IRR target.
All the Portuguese projects published in Housers have been successfully financed, demonstrating the confidence of investors in the Portuguese market and at the same time the commitment of the promoters. It should be noted that all the projects located in this country are being developed without any type of incidence.
Discover a new location to invest in Portugal
You can now invest in a new location in Portugal, this time we are talking about the island of Madeira.
Discover Madeira Villas II, the second tranche of a fixed-rate project that consists of granting a loan to a developer for the purchase of four lots of land and the construction of three luxury villas on the island of Madeira in Portugal. The opportunity presents a return of 8.5% in 12 months (with the possibility of an extension of 6 months).
Don't miss it!