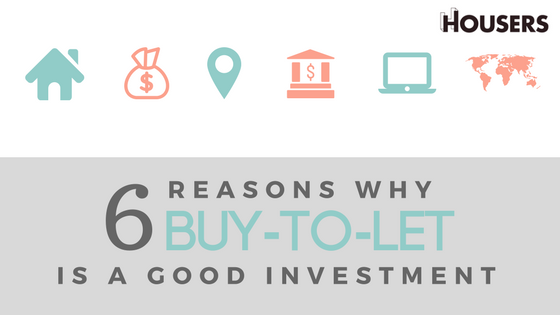 When it comes to investing with Housers we make it easy by diversifying the type of investment opportunities that we offer to our investors. This is meant to benefit the investors and provide something for every investor out there.
All opportunities offer different advantages, time periods and even conditions. Though today we're going to tell you specifically about the benefits of the buy-to-let opportunities and why they're a great investment.
Property, specially the purchase of property has always been considered an investment opportunity. Yet, at Housers you don't need to worry about placing a large amount for a deposit on a house in order to receive returns, here we make it simple: we provide you with the property to invest in and you are the one that benefits from it with your investment made. Simple.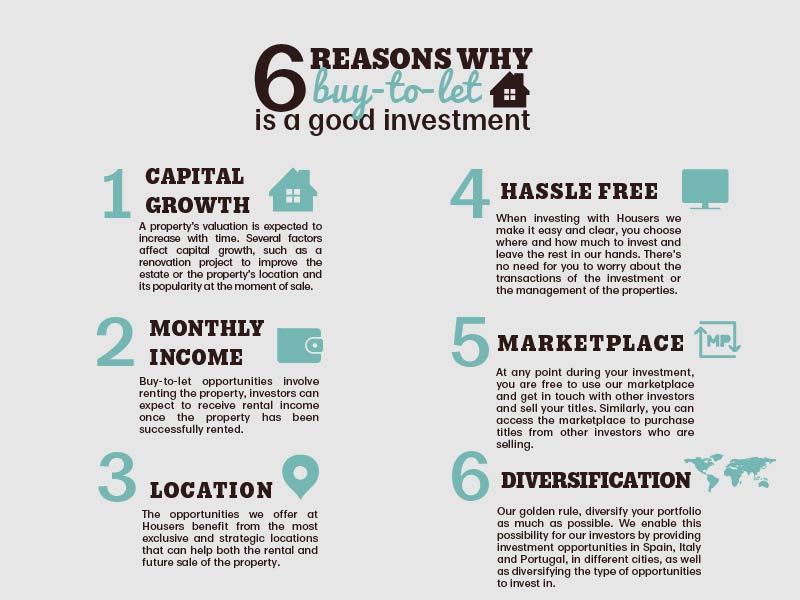 Capital Growth
One of the most appealing advantages of these opportunities is the capital growth that they benefit from. Buy-to-let opportunities involve a property's valuation over time, meaning that a property is purchased with the hope that in time it will become more valuable. Several factors affect the capital growth that an opportunity can have, such as a renovation project to improve the estate or the property's location and its popularity at the moment of sale.
Regular Income
Since the buy-to-let opportunities involve renting the property, investors can expect to receive rental income once the property has been successfully rented. This tends to be the main incentive for investors who seek immediate returns from their investments. Marc Shoffman, author of This is Money, states that "The key to successful buy-to-let investing is generating income."
In Europe alone, the buy-to-let interests are booming with high yields for the investors from the rents. Recent studies from Themovechannel, placed Spain as the most popular destination in Europe (to move to) with an average 4.7% rental return, with Portugal in the second highest place with 5.64%, followed by France that boasts from 35.9% rental return and Italy with 2.37%.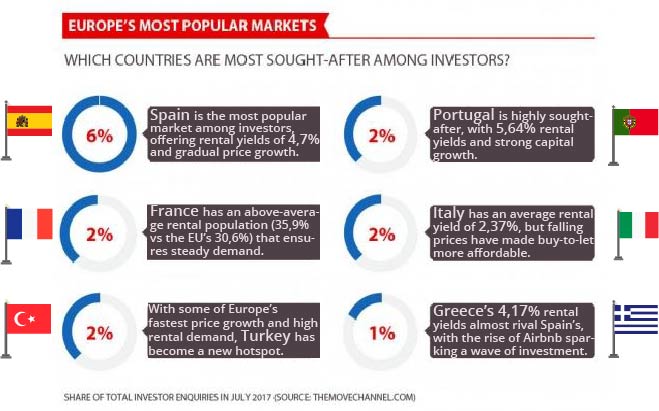 Location
The opportunities we offer at Housers benefit from the most exclusive and strategic locations that can help both the rental and future sale of the property. The locations chosen for all the properties vary in country as well as city, where we choose the most demanded neighborhoods for rent and sale in each city. This in turn, provides great returns to our investors who are practically guaranteed to see returns from day one.
Other benefits that are specific to Housers, that we point out every time a buy-to-let opportunity comes out on the platform,  are:
Marketplace: at any point during your investment, you are free to use our marketplace and get in touch with other investors and sell your titles. Similarly, you can access the marketplace to purchase titles from other investors who are selling.
Our Marketplace has an average sale time of 6 days to sell your titles.
So far, there has been 433,618.84€ exchanged.
InstantRent: a Housers feature in which you don't have to worry about the property to be rented, because from the moment that you invest you begin receiving earnings; InstantRent.
Diversification: our golden rule remains, diversify your portfolio as much as possible. We enable this possibility for our investors by providing investment opportunities in Spain, Italy and Portugal, in different cities, as well as diversifying the type of opportunities to invest in.
Hassle Free: You don't have to worry about a thing! When investing with Housers we make it easy and clear, you choose where and how much to invest and leave the rest in our hands. There's no need for you to worry about the transactions of the investment or the management of the properties, that's why we're here.
Rehabilitation of city-centers: some of our opportunities allow us the chance to rehabilitate the city centers of the participating cities due to the renovation work that our properties go through.
Yield-Risk Relationship: In addition, buy-to-let opportunities tend to have a relatively stable yield-risk relationship, this is due to the fact that although a property can increase in price and provide better returns it can also suffer from a fall in the market that effectively decreases the property prices. These properties tend to be easy to rent, but the rental income can always fluctuate due to the struggle to secure a tenant.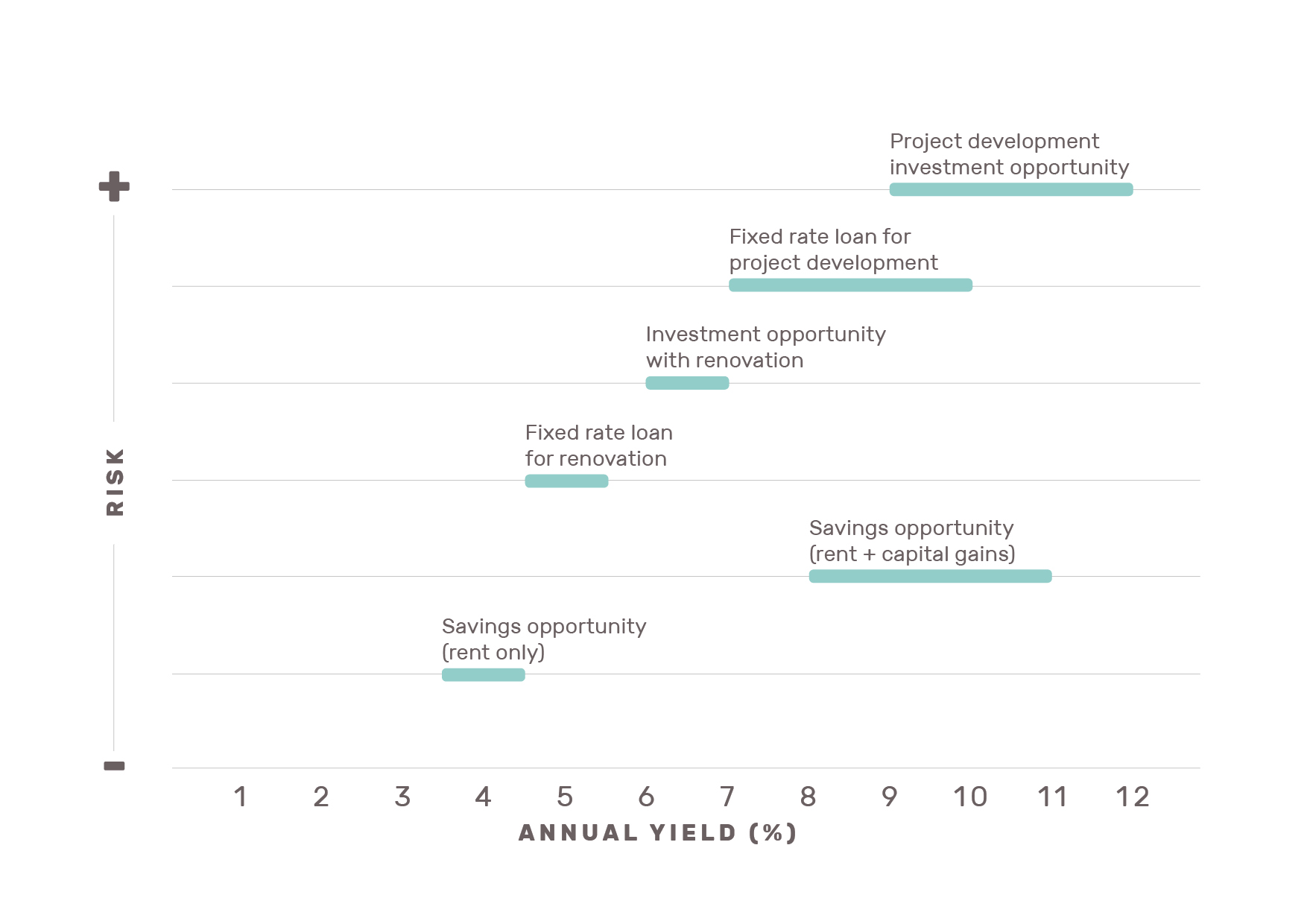 All in all, regardless of the pros and cons, buy-to-let opportunities prove to be a great investment specially when considering the gross benefits like capital growth and rental income. At Housers we are constantly providing you with opportunities to save. Head over to our website and see the current buy-to-let opportunities available today.
To read more about the benefits and explanations of our buy-to-let opportunities, click here.