The consolidation of the real estate market in Spain is a fact, as we can see on its price increase. Between January and July this year 265.793 properties were sold facing 237.884 from the same period last year. This positive change has occurred due to three factors:
 The positive evolution of employment. During summer 226.500 jobs were created, and unemployment has jumped below the 20% barrier for the first time in the past six years according to the INE (National Institute of Statistics). Expectations for 2017 regarding employment creation ascends to 800.000 jobs and will reduce the unemployment percentage to 18,2% at the end of the year
The expansive monetary policy that has increased credit at low interest.
Increase on foreign demand in Spanish properties purchase.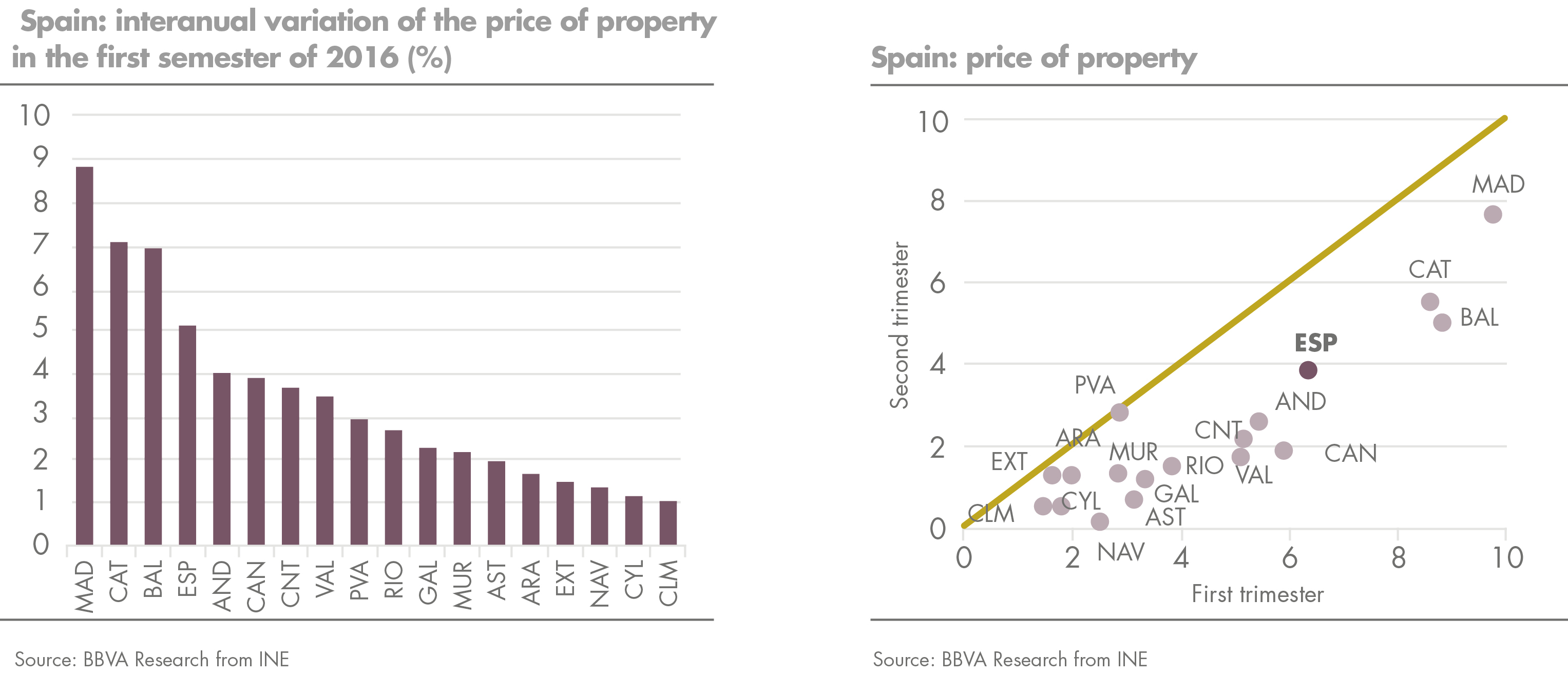 During the first half of the year, the price of property kept on increasing according to the Ministry of Development. In the second quarter the average price was 1506,4€/m2, similar to the first half of 2004. We can also see that the price increases in the first quarter in every autonomous community. For instance Madrid increased 8,7% and Catalunya and Balearic Islands 7%. On the other hand Castilla Leon and Castilla La Mancha have increase only around 1%.
Foreigners buy three times more properties than in 2009, demand generates price increase
According to the Ministry of Development, the properties transactions made by foreigners increased 13,4% in 2015. The numbers of foreign tourism in Spain are climbing to a new maximum, so it is expected that next year these transactions will increase substantially.
Estimations are, that until the end of next year 475.000 properties will be sold in Spain, an annual growth of 6,5%. These demand increase will inflate the prices even more, reaching the price level of 2004.
The GDP in Spain has grown 0,7% in the third quarter of this year, expanding a 3,2% comparing to the same period last year according to the INE (National Institute of Statistics). The entity situates the GDP growth for 2017 at 2,3%, making the perfect time to invest.