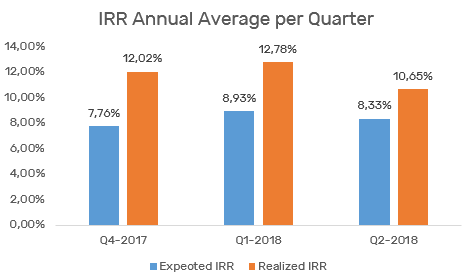 Housers Q2 Results
One of the main reasons you invest is likely due to the historical results. The returns for closed projects at Housers in the second quarter of 2018  were once again higher than 10%.
The second quarter of 2018 was very positive for our investors, as we closed 7 more deals including:
Four BUY-TO-SELL projects.
Two BUY-TO-LET projects.
One DEVELOPMENT LOAN project.
Among these, we financed both housing and commercial real estate projects. Most notably, all seven of these projects were closed before their respective deadlines.
Specifically, the projects closed between January and March of 2018 were:
Senda del Aire.
Pradillo.
Ponzano.
Azca.
Ríos Rosas.
Jaime el Conquistador.
Vinaroz.
Achieving maximum returns for your savings is a central part of our mission, and now you can consult the results obtained in Q2 at Housers when making your next decision to invest.
Average yield in Q2 of 2018: 10.65%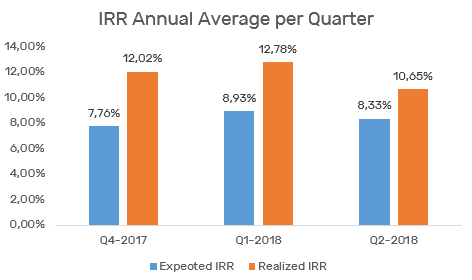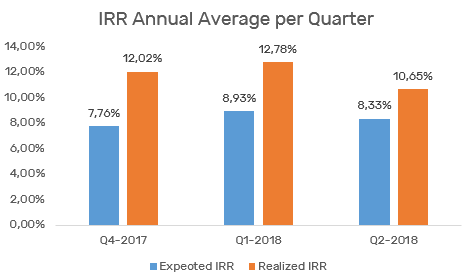 The completion of these seven projects resulted in the average annual returns of Housers reaching 10.65%.
We greatly exceeded our initial forecasts for this period. Initial forecasts for the second quarter of 2018 were improved by 28%.
In total, between distributed returns and capital returns, we have distributed over 58 million euros, reaching a figure of more than 87,000 users. In total, 18 projects have been closed:
15 BUY-TO-LET projects
12 BUY-TO-SELL projects
1 Development loan project
And all of this, with an average annual return of over 10%.
Remember that the key to success in any investment you make is diversification based on your investor profile. Check out our opportunities and start growing your savings today.